How to burn fat and get lean the EFFICIENT and FUN way 

with lots of extra advantages!

Now as downloadable video-files!  –Get immediate acces to your a full 3-step progression program!
The programs provided in this video will help you
get lean and more athletic
burn fat by boosting your metabolism and
improve you coordination and balance
Trampo-Lean   – Fun Interval Training on the Garden Trampoline  is not about acrobatic skills. It is simply about using a fun tool for your fitness goals. Who says interval training has to be boring, linear exercise?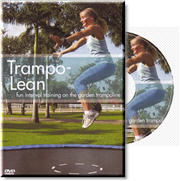 Doing the simple drills that I show you in this video, you will get that high intensity interval training that science has shown to be way more
efficient than steady state aerobic training for most fitness goals. At the same time you will be doing multiplanar, full body workouts.
The different drills shown in the programs are designed to incorporate many muscle groups in different functional movement patterns. This means that, as you are doing these interval sessions you will get such nice bonus effects as strong abs and lower back muscles, improved knee stability and improved athletic coordination.
The springs from the trampoline will help you get that light, powerful feeling of athleticism and freedom.
You can do this even if you're on the heavy side to begin with, because the springs help absorb the impact of the landings.
These are the benefits that you can be looking forward to:
You play your way to a trimmed waistline
You boost your metabolism for hours after the workout
You get the joint stabilizing effects of multiplanar exercise
You improve your coordination
You improve cardio-vascular health
You tone your muscles and stengthen your bones
You get a much higher payoff for your time invested (compared to regular steady state cardio sessions)
Click the Buy Now button to get immediate acces to the Trampo-Lean program on video
You have probably already heard or read about the efficiency of interval
training compared to long, steady state cardio sessions.
Research and results from fat loss experts around the world shows that the high intensity of exercise that you get in interval training creates a metabolic after burn effect that may last up to 38 hours after the workout – on top of the increase in metabolism during the workout itself! This effect is much lower with lower intensities of workout.
This means that you get far more "fat burn" for your workout time with interval training.
Actually, the same is true for cardio-vascular health. Interval training more efficient for cardio-vascular health than longer, lower intensity steady state sessions. That sounds great – but how do you do interval training?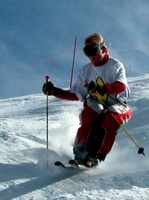 I have used the trampoline a lot myself, preparing for my sport – moguls skiing – in which interval training is essential.  The trampoline is a fun way of doing tough training and it also works your balance and coordination. Since I stopped competing and started working as a personal trainer I have introduced quite a few people to exercising on the trampoline and EVERYBODY LOVES IT – regardless of age and fitness level.
Click the Buy Now button to get immediate acces to the Trampo-Lean program on video
Does interval training have to be running, stepping or biking on a cardio machine?
No way!
Of course it CAN be, but the problem is often, that unless you are one
determined athlete it can be difficult to push yourself hard enough to get your heart rate up in that high intensity zone.
It can also get pretty monotonous – both for your mind and for your
body! It is important to get around the full spectrum of moving when you train. That's the way you get the most of it.
If you train too much with repetitive movement, you might end up with imbalances or overuse injuries. I know because I've been there. In 1998 when I was leading the world cup and just one month before the Nagano Olympics, I got seriously injured only due to repetitive movement combined with muscle imbalances.
Besides…
Why not make interval training fun while you're at it!
Why not base it on functional, multi-planar exercise variations to make it less monotonous
Why not go for bonus benefits from your interval training and get good side effects such as a strong core and good coordination!
Why not use that garden trampoline!!!
Click the Buy Now button to get immediate access to the Trampo-Lean program on video
The intensity that you can achieve doing interval training is far beyond
what you can sustain with steady state, and it is exactly that high intensity
that gives great benefits for your cardio-vascular system and for fat burning
purposes.
Still finding it hard to get started with interval training?
You know that interval training is the most efficient – so what's holding you back? It can be difficult to push yourself hard enough during "linear" interval training such as running or biking or the surroundings may not be quite for sprinting. Sometimes the surroundings don't lend themselves to that kind of training.
Maybe you just feel silly pushing yourself that hard.
Maybe you have problems with pain when you run or bike.
– Or maybe you just think it's too boring.
That's why I have made this interval program for you to do on the garden trampoline. I wanted to give you an alternative to the linear disciplines of running and biking. When you are on the trampoline you'll automatically get that high intensity – all while playing around. You will see your heart rate reach 150-160 bpm in no time without suffering the way you do in the more classical interval training disciplines. All you have to do
is jump actively.
Try it out!
You can watch a preview of the videos on YouTube by clicking on this link: Preview of Trampo-Lean -Get Fit on the Garden Trampoline